To crochet some hearts,  table decorations etc. for Valentine is such a fun way of preparing for this special day! You can crochet stuff to decorate your home or to "decorate" your loved ones with your handmade items!
I found some Valentine crochet heart patterns that are absolutely adorable! If you think that too – click the link and go get the pattern! If you like tutorial patterns, I put up some videos with Valentine patterns for you. Just scroll your way down this page and you will find them!
Find Your Valentine – Crochet Heart Pattern

FREE VALENTINE CROCHET TUTORIALS
How To – Crochet a small Valentine heart
Crochet Valentine Baby Shoe – Part One
Crochet valentine shoe part two
Crochet heart style 1

Vintage Heart Crochet Pattern
This is a typical vintage pattern; heart decoration on a handkerchief. Today we might not use fabric handkerchiefs that much, but you can use the same pattern to make a table cloth instead.  That would be a nice decoration for Valentine I think.
Or if you make a larger one,  it will be a nice vintage scarf!
Heart Handkerchief Edging Pattern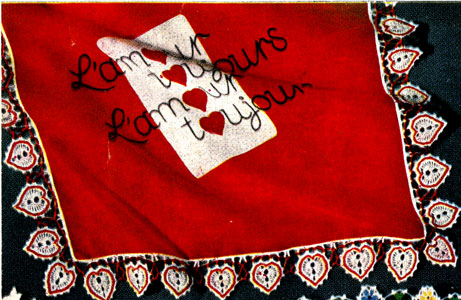 Did You Know This About Valentines Day?
It is a holiday that is observed each year on the February 14.
Many countries all over the world are celebrating love this day, but it is not a holiday in many.
Valentine day was associated with romantic love first in the Middle Ages
In 18th century England lovers started to express love towards each other by presenting flowers, confectionary and sending greeting cards this particular day.
The most common Valentine symbol today might be the Heart; you can see the Valentine heart on many things; from cards, clothes, accessories etc. Even doves and cupids are used.
(Source:http://en.wikipedia.org/wiki/Valentine's_Day)


Crochet Valentine Patterns
On this page you can find lots of crochet Valentine Patterns! Most of them are patterns for crochet beginners, but there are those who need you to have some crochet experience.
Valentine Hats And Scarfs patterns
Sponsored ads:
VALENTINE HEART HEADBANDS
Sponsored ads:
VALENTINE LOVE GLOVES
Sponsored ads:
VALENTINE BABY SHOES
Sponsored ads:
VALENTINE HEARTS BLANKETS
Sponsored ad:
More crochet hearts patterns:  Free Frozen Inspired Crochet Valentine Patterns Squidoo + Cherry Crochet Heart Boho Hearts
---
Crochet news:  Jayne Dawson A woman's workbox shows a past life of love and care. Yorkshire Evening Post. Jayne Dawson A woman's workbox shows a past life of love and care Yorkshire Evening Post
---
Affiliate Disclosure: This website contains affiliate links and the owner of the site might be compensated if you make a purchase after clicking on the images or links.
Save
(Visited 6,218 times, 21 visits today)